STATUS: " Musicomania OUT NOW! See our discography section. Don't forget to download our FREE APP in the APP Store for your iPhone & iPad device."
LATEST NEWS
Europe in 1 week!
Friday, October 2nd, 2015
We leave for our European Tour in one week! See our SHOWS section for dates and info. We can't wait to be back on the road this fall!
Comments will be enabled soon.
Packing Merch for European Tour!
Friday, September 25th, 2015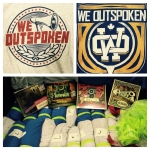 Packing our new merch for our European tour, ranger roll style! A big thank you to Custom Merch. We leave in two weeks and can't wait to tour again Visit our on-line store by clicking on our STORE section.
Comments will be enabled soon.
We Outspoken - All the right pieces new album cover!
Friday, September 18th, 2015
"Illusion of time" ©Winston Smith www.winstonsmith.com Text arrangement: Jeremy Wayda, Mushroom Media We are happy to release the front cover of our new record, All the right pieces! This piece is called "The Illusion of time". Winston Smith did a great job and we can't thank him enough. Working on this project together has been a dream come true! We have found many different faces and hidden images throughout. Tell us what you find! Winston also designed the back cover for this record as well! We will release this in a few weeks with track listings! Album release date: TBA *Winston has been instrumental in the arts community as one of the greatest collage artists to date. If you know anything about Winston, he creates surrealist collages and images. Winston's art has become the blueprint for others that have followed. You can find his work in the New Yorker, on almost every Dead Kennedy record, and in many other works and media including the artwork for Green Day's Insomniac record
Comments will be enabled soon.
UPCOMING SHOWS
October 15, 2015
Antwerp , Belgium
Antwerp Music City
07:00 PM
October 16, 2015
Leuven, Belgium
Rock Cafe (Room 66)
07:00 PM
October 17, 2015
Paris (Montreuil), France
La Comedia Michelet
07:00 PM
October 20, 2015
Barcelona, Spain
RockSound
07:00 PM
October 21, 2015
Nimes, France
London Tavern
07:00 PM
October 23, 2015
Codogno (Milan), Italy
Terminal 1
07:00 PM
OUTSPOKEN TV